Saint Placide
20.02.10-21.02.10
A further step in the history of "Aufwind extreme" occured. Fortunate circumstances allowed one member of Team Aufwind to travel to Canada. Destination of the journey was Saint Placide, location of a kitefestival on ice. Together with some friends of "No Limit" the flight to Canada was already amazing. A lot of luggage had to be moved.
Arrived in St.Placide we had some funny and beautiful days with hard chill. For "frozen" kitefliers there was a little hut with a fireplace.
Look at the pictures, they tell more than 1000 words...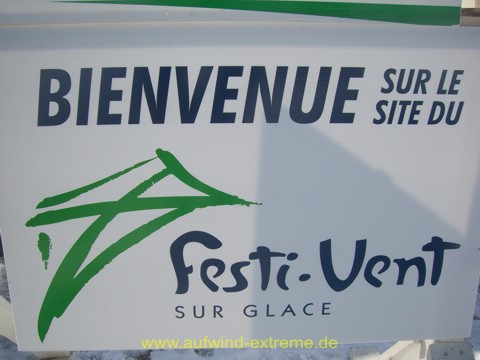 luggage for just one weekend :-)

4 guys and dozens of kites - one car has to be enough

They are used to inflatables - thank god they didnt hurt themselves

when playing with so many rims...

...to build up a beautiful exhibition of kites.

artwork to eat

preparing the ice to fix the kites

nice and unusual at same time...

... the white landscape in the background of a kitefestival

Lots of kites were flying...

...during the cold wind generated a lot of power on the lines.

different vehicles to move on ice - old...

...and new

Kites at night could be watched from far away ...

...on the flat landscape

Little christmastrees were used as fieldborder

Sunglasses in winter...

...sun and snow made the kites shining bright -

so thousands of visitors came to watch
Even the hospitality was great. Housing and catering were arranged in an nice and familiar way.
Thanks to all who helped to make this festival that wonderful.